Cake Maternity brings you delicious fabrics and indulgent details that give you a taste of your individual self. Within the practical world of pregnancy and breastfeeding, Cake reminds women that although you may be a mother, here you are a woman first.
Feel confident knowing that each item has been innovatively engineered. From their flexible wire bras that mold perfectly to your changing body, to technically constructed soft cups and seamless transition bras. Each piece is as intricately unique as the different stages of your changing body.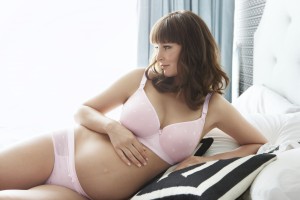 Going strong since 2008, Cake Maternity embodies a sophisticated look. Strong but subtle, sensual yet familiar & indulgent yet practical.
You can have your Cake and eat it too! A top quality maternity bra that is comfortable, supportive, and beautiful is not a luxury; it is a necessity to your breast health and overall well-being.
Too often women put the needs and wants of others before their own.  Cake puts the woman first and makes sure she is well supported.
Click to find stores that sell Cake products